GA Deck Services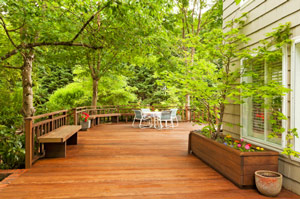 We install beautiful wood decks in GA.
Quality deck installation and repair in GA
A good deck is a tremendous asset to your home. Besides increasing your home's value, it also provides versatile recreational space to your home. Depending on how you've designed your deck, it could serve as an extra room for events, a place to grill and barbecue, a secluded area to enjoy a good book, or even something entirely different.
Our team at C. Jenkins Construction can help you make your dream deck a reality. With a reputation for excellence and dedication to every job, you can always count on us to have your back. We also offer other deck services like deck replacement and repair. Contact us today online or by phone to learn more about our deck services and schedule your estimate!
Comprehensive and trustworthy deck installation services
Are you interested in having a deck installed but are unsure of the process? Our team can help. We'll take a look at your property, listen to your vision, and find the location where your deck will provide the most value to your home and meet your needs while guiding you through the whole process, step by step.
At C. Jenkins Construction we work with a variety of decking materials like:
Vinyl Decking
Composite Decking
Wood Decking
GA's deck repair and replacement contractor
Is your current deck in bad shape? C. Jenkins Construction can inspect your old deck and figure out whether it will need a full replacement or just repair. Our team of experts is experienced with a variety of different decking materials and styles. Regardless of what type of deck you have, you can count on our team to be able to diagnose your problem and restore your deck to its glory days.
Comprehensive decking services at C. Jenkins Construction
Whether you have an old deck or no deck, C. Jenkins Construction can take care of your deck installation, replacement, and repair needs. When you work with us you can count on quality and communication. Reach out to us today to learn more about our services and also schedule your estimate!